I am actually playing a song while writing you this.
That is because music is an aspect of life that isn't just for pleasure purpose or for relaxing alone.
Some listen to music for inspiration, for focus, etc…Whichever reason you have to listen to a song, you should listen to it through a good music replay medium to have the maximum output, you wouldn't want to strain your hearing to get the words on a soundtrack or a beat from an acoustic, etc. Android devices are one of the most used music medium in recent times. Some android devices come with good stuck music player, some don't, others are just awful and make listening to a song a pain, like a sting of the needle on the thumb. That said, please let me show how you don't have to stick to something if it's not worth it.
Welcome to Android third party music players review.
5 BEST MUSIC PLAYER FOR ANDROID
We will be talking about these five music players.
JetAudio
Poweramp music player
PlayerPro Music Player
Neutron Music Player
Mediamonkey
jetAudio
The jetAudio audio player has long been a favorite among Android users because it has enough features to be better than most, while it remains easy enough to use for any music lover.
It has many features for sound enhancements, so you can tune your music a little differently than usual. In addition, it is equipped with an equalizer (complete with 32 presets), simple effects such as bass boost, tag editor, widgets and even MIDI playback. The free and paid versions are almost identical. The paid version simply removes ads and adds themes.
Poweramp
In Poweramp so many individual features that we could all day to talk about them. So, here is a brief overview of some of the features that he can offer.
There is an equalizer with preset presets, bass and treble controls and separate tabs for adjusting the tone and volume. If you tune everything well enough, you can improve the sound quality, which will be especially noticeable when listening to the FLAC format. It also plays mp3, mp4 / m4a (including alac), Ogg, WMA, FLAC, Wav, ape, WV, tta, mpc and aiff formats.
If you like falling asleep to certain music, then we have good news for you, there is a built-in sleep timer that allows you not to worry about falling asleep and leaving the music on, which will discharge the entire battery. Just indicate after how many minutes the music should turn off and go to bed calmly.
Poweramp can search for lyrics with the Musixmatch plugin. You can also turn off the silence at the beginning and end of tracks so that the music does not stop playing for more than a second. There is support for the Russian language.
PlayerPro Music Player
PlayerPro Music Player – it has a beautiful interface that allows you to use skins that you can download. There is support for video playback, a five-band equalizer, various sound effects, widgets and interesting functions, such as shaking the phone to switch the track. The application even supports Hi-Fi music (up to 32 bit, 384 kHz).
Neutron Music Player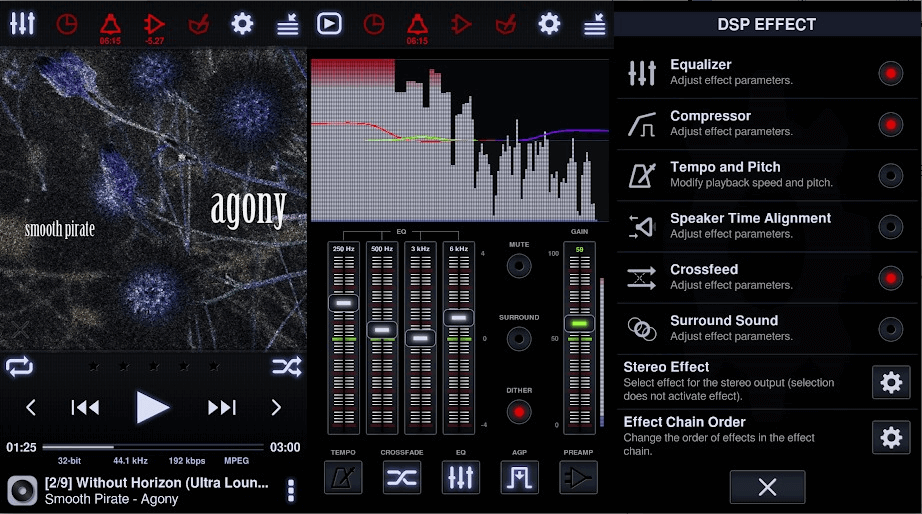 Neutron Music Player is a good audio player that is not as popular as it should be. It is equipped with a 32/64-bit sound rendering engine, which (according to the developers) is not dependent on the Android OS. Thanks to this, it is possible to get very high-quality sound.
The player also has many other functions, including support for rarer file types (flac, MPC, etc.), a built-in equalizer, and audio output to UPnP / DLNA and Chromecast network renders.
In general, great for music lovers. You can download it for free on the Play Store, but the trial version is only valid for 5 days.
Mediamonkey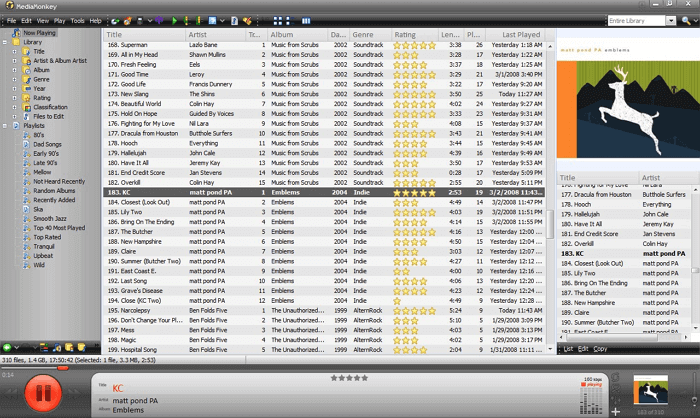 MediaMonkey is equipped with all the features you would expect from a mobile music player, including audio and video support, podcast support, category navigation, a user-friendly interface, gain settings, an equalizer, and even a sleep timer. It is possible to search for tracks by genre, artist, album or title.
But perhaps the most useful thing for you will be the ability to synchronize via Wi-Fi, if you also use MediaMonkey for Windows. Here you will get the synchronization of playlists, the number of plays, ratings, the date the song was added to the collection and all other metadata that the program saves on the computer.
Recently, the player began to support the Android Auto application to mirror the functions of a smartphone on a car multimedia system. Now you can enjoy your favorite songs and on the go.
It may seem that this is just a dream for the music lover, but in reality, the price of the professional version is a little scary. The application is really free, but the main functions that make it so unique are offered in the trial version, which can be purchased for 120 rubles each or immediately bought the professional version for 240 rubles, which unlocks all these functions.